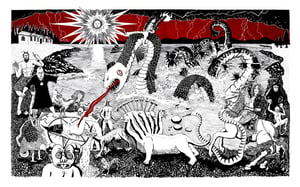 £

150.00
Archival Giclee print on Aquarelle Rag paper
Signed Edition of 100
841 x 594 mm
£150
Jimmy Page and Robert Plant of Led Zeppelin and occult visionary Aleister Crowley performing a sex magic ritual on the shores of Loch Ness. Crowley lived at Boleskine House, and many years later it was bought by Jimmy Page. Rumour has it that the Loch Ness monster is a demon invoked by Crowley.